We had to reblog the story of Shirleyann Brough, an artist of Studio Italia.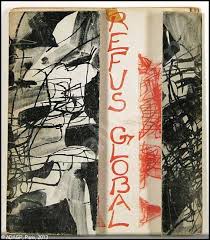 Undoubtedly, Refus Global or Total Refusal is one of the most important texts written in Canada. This anti-establishment and anti-religious manifesto, written by Paul-Émile Borduas and co-signed by a group of sixteen young French-Canadian artists and intellectuals, was released in 1948. This text brought finally modernity to Canadian art, or, Canadian painting ceased to be the trailer of international art. A few pages long, this text has all the wisdom of all the self-help books in the market. During our art class in Provence this summer, we will discuss it.  I always ask my painting students to memorize the last sentence because it will become their mantra if they want to succeed as artists: "Until then, we will not rest or falter. Hand in hand with others thirsting for a better life, no matter how long it takes, regardless of support or persecution, we will joyfully respond to a savage need for liberation". Perseverance is the key to all successful artists.
Having said this, I would like to share the story of Shirleyann Brough, a former participant of one of our painting workshops in Tuscany, who followed this mantra. And through her perseverance, she was featured in an issue of the Australian magazine Artists Palette (No. 138 p.28-31).
As written in the article about her works, entitled Art Gave Back My Life, in 2009, feeling overwhelmed by an unrewarding and stressful job, Shirleyann decided to take painting lessons. This decision triggered a series of events that changed completely her life and that helped her construct a new identity. Shortly after Shirleyann started to paint, a friend told her about our art workshops in Italy and she decided to register for our October session of Studio Italia 2011. Shirleyann arrived in Tuscany full of enthusiasm and ready to grasp every opportunity to grow. Following our combination of art theory lectures, painting exercises, and group critiques, it did not take long for Shirleyann to learn how to manipulate oils, but most importantly, to develop a personal style, which is the real challenge for an artist. "I was 65 and having the time of my life, we were taken to some small towns, painting in the piazzas and on the roadside. I had never dreamt that I could ever go to Italy to paint. Painting became my passion…Through my art some major lessons; I have learned that not everyone will like or accept my art and that is o.k." she says.  Today, Shirleyann is a full-time artist and her works are exhibited in various galleries and cafés around Adelaide. She is also very active in her community and facilitates art classes as a volunteer at three nursing homes.
Thanks to her passion, hard work, and perseverance, Shirleyann was able to liberate her true self and at Walk the Arts, we are honored of being part of her story.