If there was a little bundle of energy in our Atelier Provence group, Hyacinth (from Dayton, Ohio) was certainly. Kind, talented, persistent, with a yearning to learn, she even spent a whole night painting… below, is a "quick" appreciation of her painting workshop in France with us. I even nicknamed her "Maverickette", from Maverick in Top Gun!

Walk the Arts
The Artist Opportunity Grant afforded me an impressive and priceless art experience.
Text by Dr. Hyacinth Paul
Atelier Provence and Barcelona was an intense art experience for me; I learned more in the 11 days under Walk the Arts'careful supervision than I did in the last five years. I was taught to question my very own place in this art world and to truly think about my art. Our instructor Yves M. Larocque did not spoon-feed me, but he wanted to bring out the best in us all by challenging us to think outside the box.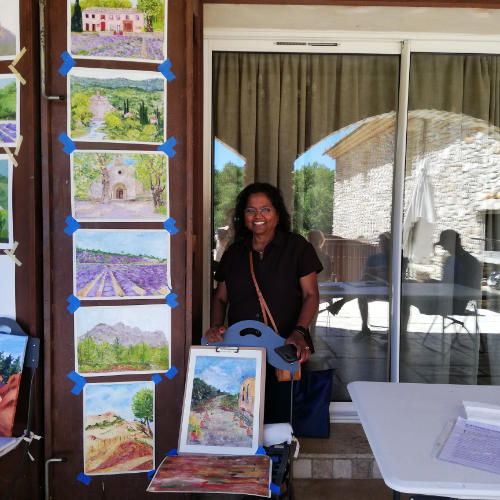 In France, we painted from the moment we landed at our lodge east of Avignon in Provence. I was painting 12 hours a day and on the sixth day, 24 hours straight to bring my paintings to a level of completion. The painting sessions were also mixed in with lectures, discussions, critiques, and, of course, instruction. We painted various landscapes: lavender fields, ochre mines, undergroves, architecture, and Cezanne's Mont Sainte Victoire. We visited Paul Cezanne's studio and traveled in the very footsteps of the great artist.
When we sat down to dinner each day at around 8:00 p.m., just as the sun was setting, with exquisite meals prepared for us by our chef Monica Marquez (see her book), the evening was filled with not only the sights, smells, and wafts of delicious couscous royal, confit de canard, lapin à la lavande, veau aux olives, but also with delicious salads, unique local cheeses, honey, local bread, scrumptious dessert. And let's not forget the now uncountable bottles of Crémant de Loire, rosé, Bordeaux, and… of course Cognac. The long dinners were filled with animated conversations on various art topics … and life. Most often, we ran into the candle-lit night, past 11:00 p.m.
All in all, I was like a kid in a candy store and I did not leave Professor Yves and asked him so many questions about mundane things like the medium he used for oil painting to which biennales were worth visiting. I found that our professor was a wealth of knowledge who willingly shared much more than I expected to learn on this trip such as writing a proper artistic statement, making a proper Web site, and the importance of Picasso's Les Demoiselles d'Avignon, and more.
We also delved into the philosophy of art making. We were continuously challenged in terms of thinking about where we wanted our art to be and what purpose our art serves in this world. We were constantly pushed into reflection about how and what makes our art our very own. Do we mimic, or do we want to express the "be"? We also learned from our colleagues from different parts of the USA and Canada and of various age groups.
Oh my god, I have forgotten Barcelona! Ok, Ok, Ok…to conclude, we visited its major art museums: the MACBA, the Picasso Museum, the National Museum of Catalonia, the Fundación Miró, Gaudí's Sagrada Familia, the Palau Güell, and the Casa Batló. How fortunate we were to admire the works of Turner at the National Museum of Catalonia. And Let's not forget the paellas.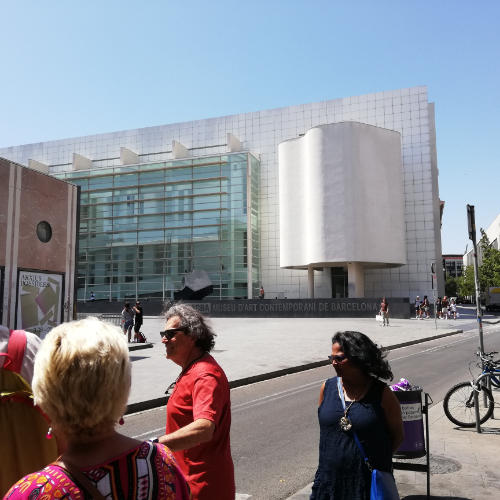 I would highly recommend this workshop to novice and pros alike.