FAQs
Everything you need to know!
The Workshop Itself | Art Material | Traveling | Meals and Accommodations | … and more
FAQs
Taking your decision; before you leave
On Walk the Arts workshops
What makes Walk the Arts' art retreats in Europe and South America so unique?
Unlike other art workshops in Europe and South America, we offer are a unique blend of plein air painting, stimulating art history and art theory lectures, great touring, and gourmet cuisine. Also, we encourage participants to search for genuineness and provide them with appropriate tools to tackle the landscape in an imaginative way. This helps to boost their creativity to depict the soul of the landscape with great confidence. Since we limit the size of our groups to eight participants, we can certainly offer personalized instruction and an intimate environment that fosters creativity and fun.
What is the difference between an "art workshop" and an "art retreat"?
At Walk the Arts we use the terms "workshops" and " retreats" as interchangeable.  However, "retreat" is sometimes used for courses offered in the countryside that include accommodations and meals, such as Studio Italia and Atelier Provence & Barcelona Art Tour.
Who can join Walk the Arts' workshops?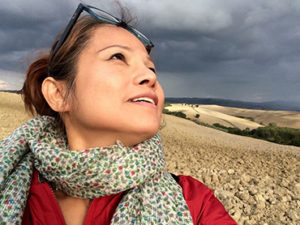 Everyone! Our "art workshops" or "art retreats" are open to artists of all levels, from beginners who wish to discover the medium of painting, intermediate artists looking for new visions and challenges, and professionals searching for a new environment to move on with their work without supervision.
Can true beginners join Walk the Arts painting workshops?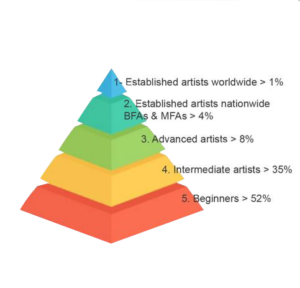 Of course! They compose the majority of our participants.
Can I bring a non-artist partner or friend?
Please, yes! We want to convert them to "art"! Many accompanying partners have already joined our retreats. And they loved it! When art instruction is given at our lodge, accompanying partners can go for a walk, enjoy the swimming pool, read, write, etc. Also, they take part in all our daily trips to nearby villages, so while everyone paints, they can explore on their own, have a coffee and later join the group for drinks. Moreover, Yves has taught them perspective drawing while everyone else was painting…. and they learned!
Furthermore, they can attend Yves's art history/art theory lectures which are interesting for both artists and non-artists. Finally, like everyone, they enjoy very much our evenings around gourmet meals and very good wine and pousse-café.
As for the price, since we have limited space in our house and our vehicle, and since the partners participate in all our activities without the need to renting a car, the cost for both artists and non-artists is the same.
What is included in the price and what are the conditions?
You will find the details and conditions about the cost of our art retreats in Italy, France, and South America at the following links: https://www.walkthearts.com/to-register/
Art material for my art class
What art mediums can I use during my art classes with Walk the Arts?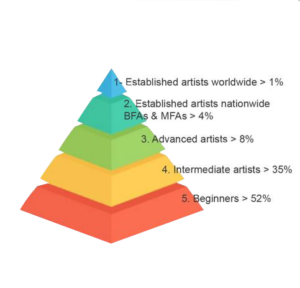 The answer is simple: the medium of your choice. You are maybe astonished to learn that all mediums are accepted for the simple reason that most of our participants are beginners and intermediate as this pyramid shows. We have been teaching drawing, painting, color theory, and perspective for more than 30 years in an art school in Ottawa, Canada, and mostly to beginners and intermediate. Therefore, we know our stuff!
But you asked. We suggest oils for beginners as they are easier to manipulate. Oils have plenty of time to dry under the Tuscan or Provençal sun. A cobalt dryer is also helpful to speed up the drying process. But, if you are an acrylic painter, acrylic is the answer; and do not forget your medium retarder. As for watercolors, since they are the most challenging medium, we strongly recommend that you buy very good pigments, Arche paper, and very good paintbrushes.
As for our university graduates (BFA  and MFA), they say, "Eh! we never learned that at the university." As for our established worldwide renowned artists (such as Vicky) and our university graduates (Kim), respectively very well internationally and locally known, they saw our workshops as an "art retreat", a time to reflect upon their new series while conversing with every one of us.
So, therefore we write "all levels", "all media" and "art retreat". And let us not forget that Mount Fuji was painted thousands of times, but what makes "your" Mount Fuji unique and authentic, is simply "you".
Is art material provided?
Since everyone can use the medium of their choice, we do not provide the art material. However, we provide easels for everyone, odorless solvents, and a cobalt dryer for oil painters. However, for an extra cost, we can take care of the basic art material list.  In this case, you would only need to bring a canvas pad.
Traveling to Italy, France, or Colombia | TRAVEL GUIDE
If I fly to Rome (Italy)
Traveling to Rome for my art class > Leonardo da Vinci Airport > Code FCO (because of Fiumicino, the city next to the airport)
You fly to Rome; nice size airport but nothing compared to huge American airports.
From there, go to the airport train station, just across the Terminal, and take the Leonardo Express train to Termini train station (Rome's main train station, here on the left).
Time to change train. Take a train that will stop at Arezzo a city halfway between Rome and Florence. "Binari" means "platforms" (plural) in Italian.
The train ride from Rome to Arezzo varies on the type of train you will take (milk run or speed train).
You will see us, with a big smile, at the entrance of the Arezzo Stazione (train station)
If I fly to Florence
Traveling to Florence for my painting workshop >  Amerigo Vespucci Airport > Code FLO .
You fly to Florence; the airport is very small, the reason we love it.
You will mostly arrive from Paris, Frankfurt, Rome or London.
From there you take a shuttle bus or a taxi to Santa Maria Novella (SMN) train station, here on the left.
Then you take a train that will stop at Arezzo a city halfway between Florence and Rome. "Binario" means "platform" in Italian.
The train ride from Florence to Arezzo is around one-hour plus.
You will see us at the entrance of the Stazione (train station)
If I fly to Marseille (France)?
Traveling to Marseille for my art workshop > Marseille Provence Airport in Marignane > Code MRS
 You fly to Marseille, Provence  > medium-small-size airport > https://ontheworldmap.com/france/city/marseille/marseille-airport-map.html
From there go to the "Gare routière" (next to taxi on the map), buy a ticket, and you simply take a bus to the very small Manosque train station ("la gare de Manosque").
You will see us smiling outside.
If I fly to Barranquilla (Colombia)?
Traveling to Barranquilla for my drawing workshop >  Ernesto Cortissoz Airport > Code BAQ
 You fly to Barranquilla (most probably via Panama, Miami, or Bogotá). The airport is currently (2021) into a renovation.
You will see us or a chauffeur waiting for you. He or she will hold a small sign with your name.
The chauffeur will drive you directly to Hotel Pradomar in Puerto Colombia (a 55-minute drive)
We will receive you with a big smile and a welcome drink.
Traveling on the morning of the last day?
What happens on the morning of the last day?
VERY EASY!
… last day in Italy?
On the last day, we take everyone back to the Arezzo train station. From there you can take a train back to Florence or Rome or the destination of their choice.
… last day in Provence?
Do not forget that your last day in Provence is in fact in Barcelona. We will leave at the hotel and us (Walk the Arts) we have to take a train back to Avignon from the Barcelona Sants train station for logistic purposes.
… last day in Colombia?
You will be then in Cartagena. You will have the choice to stay longer in the city or fly back home or carry your trip from Rafael Núñez Airport (code CTG) to another city in South America.
Gastronomy and Accommodation
Every evening, around the supper table, usually dimly lit by four candles dripping on Chianti bottles, we would have lengthy discussions on various art topics. And every night our guests would be amazed at the beauty and the scrumptiousness of our meals. See also this art workshop a food and wine vacation in Italy, France or Colombia.
Am I going to eat only pizza and pasta while drinking plonk?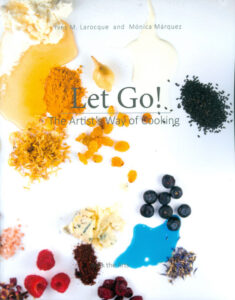 No! No! No! And we do not want this; and besides Italian cuisine is much more than pizza, spaghetti, and homemade wine.
Around the end of each Studio Italia workshop, the same comment would creep back in at the table: "We ate so well! Why don't you write down your recipes and publish them as a booklet to be sold as a souvenir? We smiled politely, thinking that everyone was able to cook as well as we did. But one year, a participant in the publishing business suggested that these recipes "be" published, and she was dead serious. So, perhaps all our former participants were right. We finally came to accept the fact. Please visit our recipe book site https://theartistswayofcooking.com
So, what type of meals do you offer?
Everything! for a full nine-day of gastronomy. We serve a variety of meats from the land or the sea; a selection of pasta, cheeses, and deserts; and of course, all the wine with Italian brandy and grappa. Our various menus reflect Tuscan and Umbrian cuisine with a personal touch based on our cooking method.
During breakfast, eggs, yogurt, cereals, fruits, etc. are always on the table.  Lunch, mostly light, is served around beautiful salads, pasta, and fruits. Dinner is usually composed of 4 to 5 services including all the wine.
In brief, we provide fresh, healthy, and delicious meals prepared with local ingredients. Since sharing good food and wine is also a great way to learn about art, our gourmet meals are an important part of the learning process and the conviviality of our workshops.
Can you cater to special dietary needs?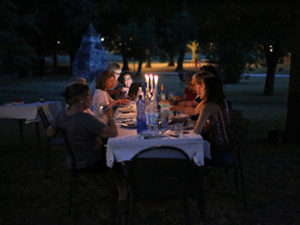 We accommodate most dietary requirements including vegetarian, non-dairy and gluten-free.
What are Walk the Arts' accommodations?
We live in an old 200-year-old Italian house. It is very clean, has been renovated and all rooms have their private bathroom. The kitchen is fantastic for Monica our chef, the dining table is huge for great art discussions; it has its own swimming pool lost in an olive grove.
Can I have my own room?
Since the price is based on double accommodation, yes, we have limited single rooms for a supplement.
... and what is?
What is the meaning of art?
How would you define art?
The definition of art always remains contextual, in the sense that for one person art may represent something completely different than for another. But, despite all this, we could define "art" as follows.
"Art" (as in a work of art) is foremost an expression of the self, manifested in a novel way, reflecting the societal context in which it was done. Art also involves a concept, an idea, where intelligence, consciousness, and inquiry are deeply interconnected. Craft, harmony, truth, and goodwill are inherent parts of a work of art. (Walk the Arts)
Of course, we could expand on this definition. In our Western world, art refers foremost to beauty, a notion that has evolved since Greek antiquity. Art in the 21st century, a period dominated by science, technology, and sociology, also questions the concept of beauty, but well rooted into the values of the human being. When dealing with the visual arts, this notion can be expressed through the landscape, the portrait, or the abstraction.
What makes an excellent art teacher?
Passion first! More than an artist, a good art teacher, is an energetic passionate human being. Someone whose life has been dedicated to art and art education. Empathy, active listening, and a strong yearning for their students' success are all essential qualities of excellent art instructors. Understanding the students' vision of their artistic level and helping them move on is the starting point of any good teaching method.
Good art teachers are also knowledgeable about different techniques, but most importantly they keep up to date with the various existing "art-worlds". This allows them to direct their positive critique toward a particular one, so the student may thrive accordingly. Art history, art theory, and philosophy are also essential for good art education since they help learners develop novel ways of expression without repeating what has been done before.
In short, Yves is that kind of art instructor; he aims to help his students release their creative potential and develop the skills they need to take their art to the next level.