Yves M. Larocque (Ph.D.) — Art Instructor, Art Theoretician, Art Historian, and Artist
(B.A. in Art Theory and B.A. in Visual Arts, University of Ottawa, M.A. University of Montréal, DEA and Ph.D. Art History, Université de Paris I, Sorbonne)
Prof. Yves M. Larocque is Walk the Arts' founder and director. He is also our main art instructor, art historian, and art theoretician.
Thanks to Yves' vast knowledge, you will learn not only about the many aspects of colors, compositions, tool manipulation, perspective, contrast, etc. "but" also about content, concept, and context; for a true work of art always involves meaning on top of beauty, goodwill and truth.
In the last decade, Yves made the important decision to devote most of his time excel in his profession which is teaching! It is his passion. Yves is fluently bilingual; he coaches both in English and French. As we can see beside, he still paints, to keep up with his skills.
His works have been shown in both Americas and Europe. Many of his paintings are part of private collections.
Not only a painter, but Yves is also an art historian whose fields of interest include Italian Renaissance, Modern, and Contemporary Art, hence his love for Florence and New York City. His 35 years of teaching art history and painting at the post-secondary level make him one of the best art instructors in Canada's national capital.
He had also the opportunity to get involved with national projects and renowned international artists, and philosophers.
Yves has lectured on diverse topics in universities and museums in the U.S.A., France, Canada, and Colombia. Many times, his voice has been broadcast on Canadian Broadcasting Corporation (CBC) as a known art historian. Also, he has published in well-established art periodicals such as Vie des Arts (Montreal), Liaison (Ottawa), Médium (Paris), RACAR (Canada), and Histoire de l'Art (Paris).
With Yves, you can be sure to return home with a new commitment toward painting. His ultimate goal? That you succeed.
To learn more about Yves' teaching approach, please visit our blog.
A few of Yves Larocque's work covering a 25-year span:
Oil on canvas
More Conceptual Stuff
With Monica Marquez (Lost Paradigm)
Mónica Márquez (M.A.)— Communications Officer, Workshop/Tour Coordinator, Artist, and Chef
(B.A. in Business Administration, Universidad del Norte, Barranquilla, Specialist in Finance, Universidad de los Andes, Bogotá, M.A. in International Affairs, Norman Paterson School of International Affairs, Carleton University, Ottawa).

Since 2001 Mónica has been Walk the Arts' co-director. She manages the communications and the planning and logistics of our art workshops and art history tours. Also, she is responsible for the financial aspects of our consultancy projects. Mónica speaks fluently Spanish, English and French and has a good command of Italian. While she has an extensive background in international finance, art has always been her true passion. She is a photographer, a photo-based digital artist, and a painter; and has received several projects grants from the Ontario Arts Council. Her works have been exhibited in Canada, Colombia, Italy, and France and are part of private collections: (
www.monicamarquez.com
).
Likewise, Mónica is our chef and the co-author of the new book Let Go! The Artist's Way of Cooking. She provides our guests with varied and tasty menus reflecting the host country's staples in an innovative way. Mónica's unique meals served in beautiful settings enhance our art workshops in Tuscany, Provence, and the Colombian Caribbean Coast. During our art retreats, Mónica ensures a welcoming environment for everyone.
Support staff
During our painting holidays in Italy and France, we count with valued assistants (Stefano, Niccolina, Dalida and Zeinab) who take care of diverse housekeeping duties.
A few icscis past colleagues
Gerald Smith (M.F.A)
Bobbie Alsgaard-Lien (M.F.A)
David Jones (B.F.A.)
Prof. Alain Létourneau (Ph.D.)
Mark Walters (B.F.A.)
What makes a good art teacher
Passion first! More than an artist, a good art teacher, is an energetic passionate human being. Someone whose life has been dedicated to art and art education. Empathy, active listening, and a strong yearning for their students' success are all essential qualities of excellent art instructors. Understanding the students' vision of their artistic level and helping them move on is the starting point of any good teaching method.
Good art teachers are also knowledgeable about different techniques, but most importantly they keep up to date with the various existing "art-worlds". This allows them to direct their positive critique toward a particular one, so the student may thrive accordingly. Art history, art theory, and philosophy are also essential for good art education since they help learners develop novel ways of expression without repeating what has been done before.
In short, Yves is that kind of art instructor; he aims to help his students release their creative potential and develop the skills they need to take their art to the next level.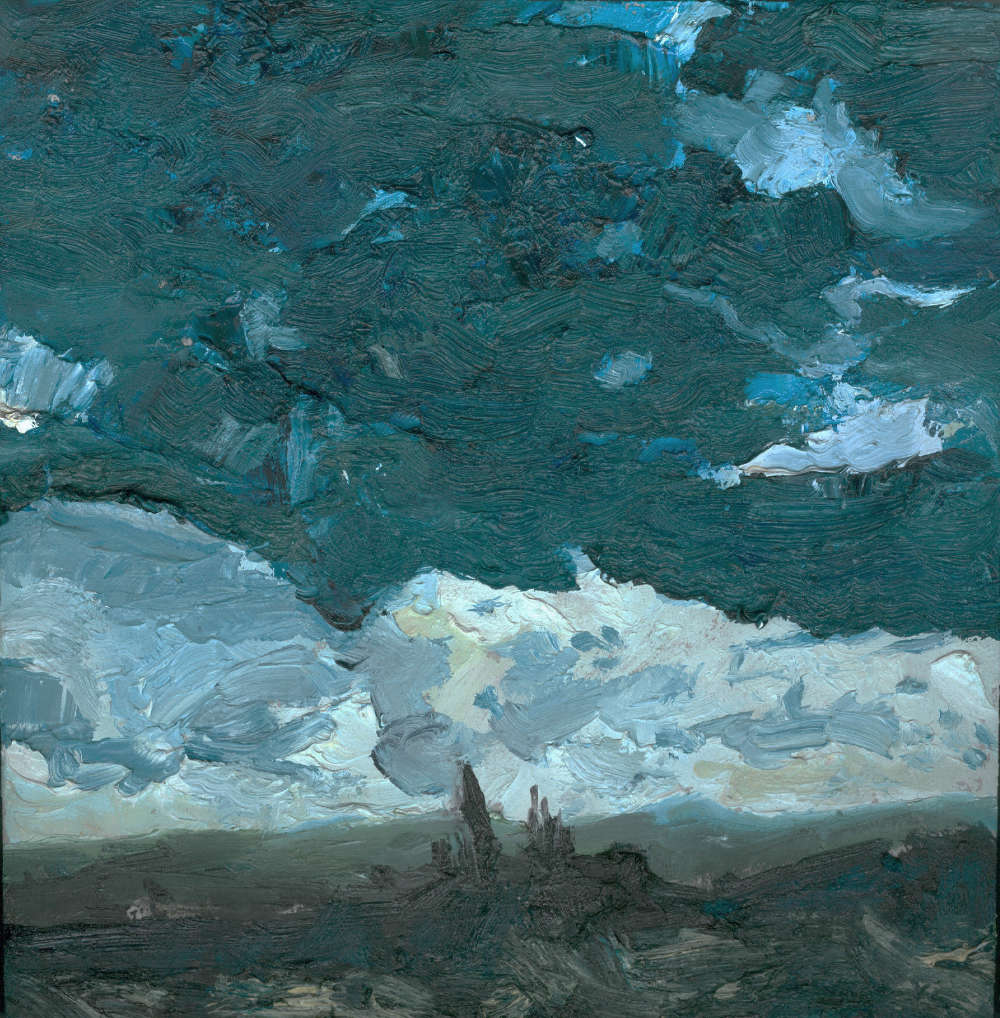 Storm Approaching on the Val d'Orcia
By Yves M. Larocque,  oil on board, (2021) 12 x 12 inches, artist's collection.