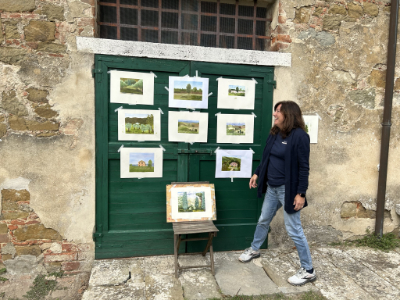 Denise Tipka in front of her works during the last crit.
Another participant from Minnesota. Denise Tipka was the "sponge" of this Fall Studio Italia painting workshop. She listened, tried everything; she was open-minded and she let go… and her paintings took flight. Upon my return to North America, I wrote to her, "the secret is to paint every day, even if it is five minutes a day". She is a promising artist, and we are looking to seeing her again, but in Provence in 2024. (Walk the Arts)
I will never think of art the same way again!
by Denise Typka
Already a month since my return from a fun-filled art-learning experience in Tuscany, Italy!  The workshop went far beyond what I even imagined, or hoped it would be. The roughly eight hours per day for most days of art instruction gave me a new perspective on my art:  where I was and where I wanted to be, the past and the future. But, together as a group, we were living in the present.
From the very beginning, Yves, our instructor, carefully watch over my canvas, from the sketch to the painting process. All the time he told me what I was doing right, and what I could do differently. His nudging pushed me out of my comfort zone into a new way of both "seeing" the gorgeous Tuscan landscape and "applying" the paint to my canvas.
During our daily plein-air painting sessions, he inspired me to break out of my overworked, detailed painting style and to momentarily abandon my paintbrush. Who knew using a palette knife could not only be a fun tool for painting but also would allow me to create my unique painting style! The same picture painted with a brush, then repainted using only a knife was a giant learning leap for me.
Yves's art history and theory lessons sprinkled during the workshop reinforced the painting instruction and gave context to our group discussions. Learning which artist developed which technique and during which time frame certainly gave me a new perspective of art appreciation. This helped me tremendously during our Uffizi visit in Florence; I finally understood the famous paintings at which I was looking. Now, I can differentiate a Trecento painting from a Seicento (Baroque) work of art.
And let's talk about the food! Monica's gracious hosting with her extraordinary four-course meals (with all the wine) were so delicious that, upon my return to Minnesota, I immediately bought two copies of her cookbook. Her wide array of dishes gave me the opportunity of new culinary experiences. I can truly say I enjoyed everything she prepared! Moreover, she made the house we were staying in feel like home and we were all glad to return to it. At the end of every day, we were all wondering what Monica was going to serve for dinner; what an exciting anticipation!
Walk the Arts (Yves and Monica), because you created such a welcoming atmosphere, we students were very relaxed with each other and became friends. We shared many conversations ¾some related to art and some not. We laughed a lot together and more importantly, we learned about each other's art and gained mutual admiration. Even the spouses who were not art students were considered part of the group and gave their honest and valuated opinions at the end of the session during our "Crit".
Thank you so much for a truly life-changing experience for me.  I will never think of art in the same way again!