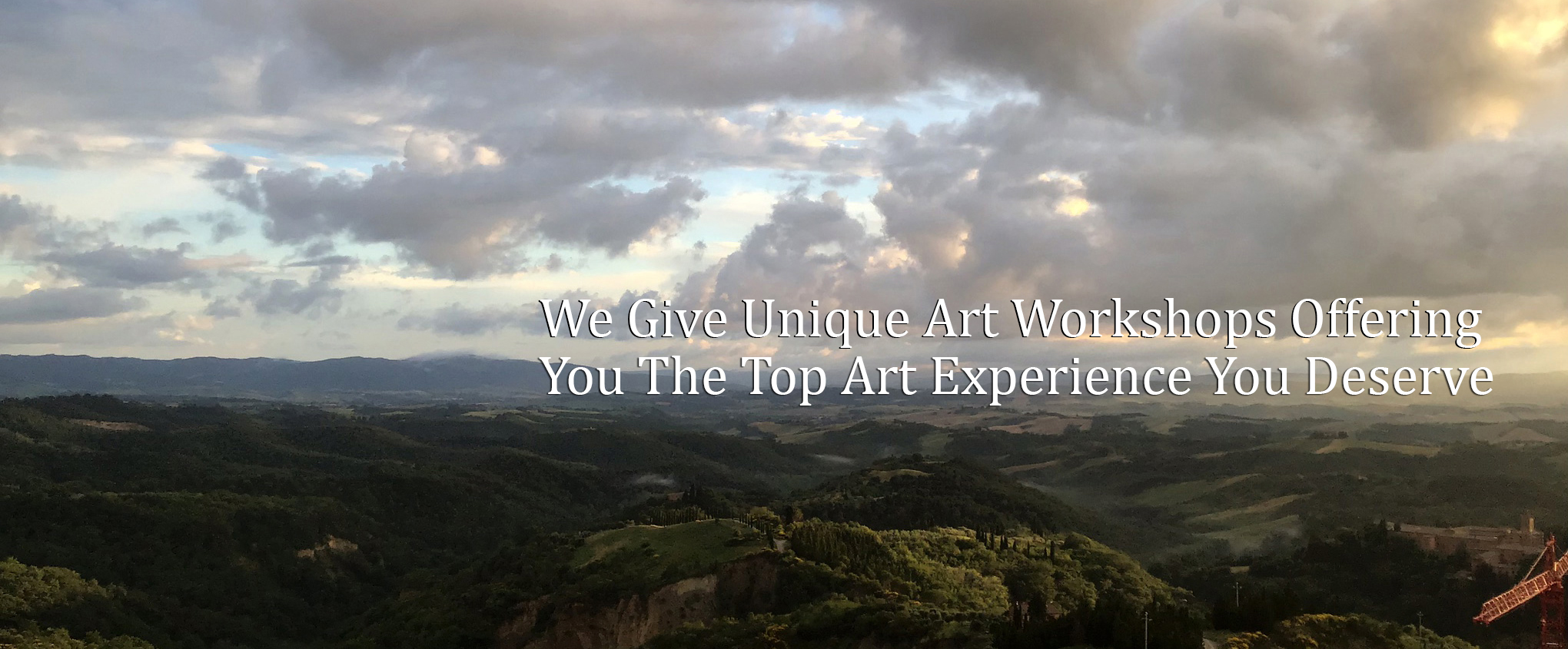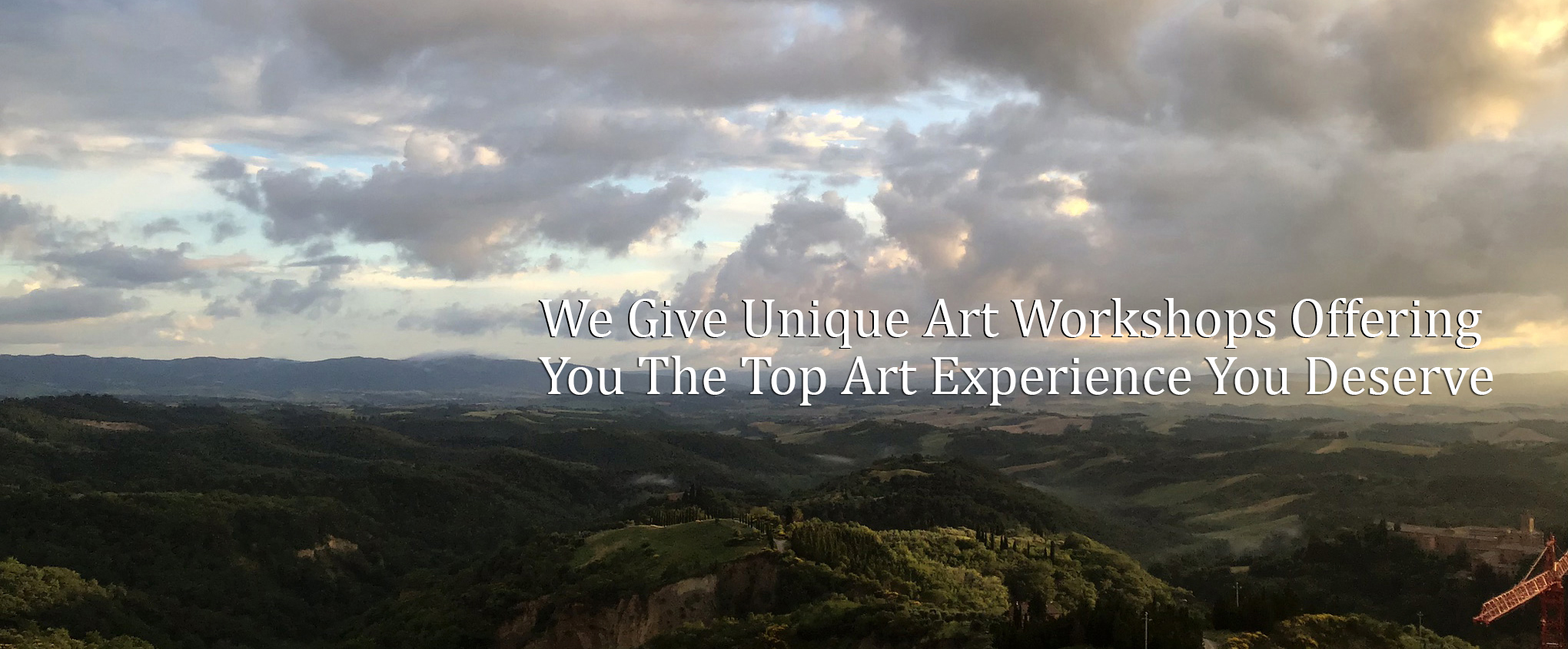 Since 1997 Walk the Arts

(
icscis inc.) has been offering top quality art classes, painting workshops and art history tours in Italy, France, Colombia, Spain and
the United States. 
Our programs 
are open to artists of all levels, lifelong learners and independent travelers seeking meaningful cultural experiences.

Walk the Arts is a cultural enterprise without walls operating from North America and Europe. All our art classes are led by professional artists and art historians. Our art workshops and art history tours take place in Italy, France, Spain, Colombia, and the United States. Our quality programs are suitable for artists of all levels and media, art lovers, lifelong learners and independent travelers seeking unique cultural experiences. We also offer tailored educational programs for colleges and universities. Since our mission is to promote the arts and culture we offer quality art courses that put emphasis on content, creativity, and experiential learning. We believe that art leads to the fulfillment of individuals and the betterment of societies. For this reason, our values are authenticity, integrity, generosity, innovation, passion, knowledge and conviviality.
Art Workshops

Our art classes and painting retreats in Italy and France are open to artists of all levels including beginners who wish to discover creativity and painting, experienced artists in the search of new visions and challenges and professional artists seeking a new environment to carry on with their work without supervision. They are also suitable for the artist's partner interested in enjoying the landscape, the touring and the regional cuisine. Participants are free to use the medium of their choice: oils, acrylics, watercolors, etc.
Since we limit the size of our groups to 8 participants, we can offer personalized instruction and an intimate and stimulating environment that fosters creativity, fulfillment and fun. Unlike other art workshops in Tuscany and Provence, Walk the Arts offers are a unique blend of plein air painting, art history/theory lectures, touring and gourmet cuisine. They make the best art holiday or painting vacation in Europe.
Up to now, hundreds of artists from Australia, Canada, the United States, France, Greece, the Netherlands, Malaysia, New Zealand and Singapore have joined our painting workshops and art courses in Europe. Moreover, we have a return rate of 60 % because we offer, as one of our former participants said, "the best of all worlds: artistic growth, breathtaking beauty, fun environment and great food and wine".
Also, since 2019 we are offering an art workshop in the Caribbean Coast of Colombia open to artists of all levels, art lovers, lifelong learners, foodies and snowbirds looking for affordable cultural trips.
Teaching Approach

Since our aim is to help our participants to express themselves in an authentic way, we offer stimulating in depth art theory discussions and art history lectures. Also, rather than teaching them how to paint from photos, we provide them with efficient tools to tackle the landscape directly and in imaginative ways. This method helps them to boost their creativity, capture the essence of the landscape and gain confidence.
Furthermore, we put emphasis on content and knowledge that cannot be found on the Web. While we teach painting techniques in all mediums (oils, acrylics, watercolors) and basic notions of perspective drawing, our goal is to help our participants of all levels to discover original avenues to express themselves, so their works become distinctive. Moreover, for those interested, we offer two thoughtful and positive group reviews of the works accomplished during the painting workshop so we can closely monitor the progress and move forward.
In addition, our art workshops in Italy and France have been credited by universities and colleges in the US, Canada and Singapore.  They also fulfill Art Teacher re-certification requirements.
Because sharing good food and wine is also a great way to learn about art, our gastronomic meals in beautiful settings are an important part of the learning process and the conviviality of our workshops. They allow our participating artists to get to know each other better and permit meaningful conversations to flow naturally.
Former students of our painting courses in Italy and France have described their experience as: "one of the best holidays and learning experiences in my life", "In depth learning about art, art history and art theory", "thought-provoking and inspirational", "life-changing", "sense of accomplishment and very exciting feeling of reward", "a wonderful cultural experience that is enhanced with excellent food and warm friendship". See testimonials.
Meet your instructor Prof. Yves M. Larocque. To learn more about our teaching approach, please visit our blog. Wondering about your instructor's works? Please read this post.  Also, you will find some links to art sites and the websites of some of our former participating artists as well as several press reviews.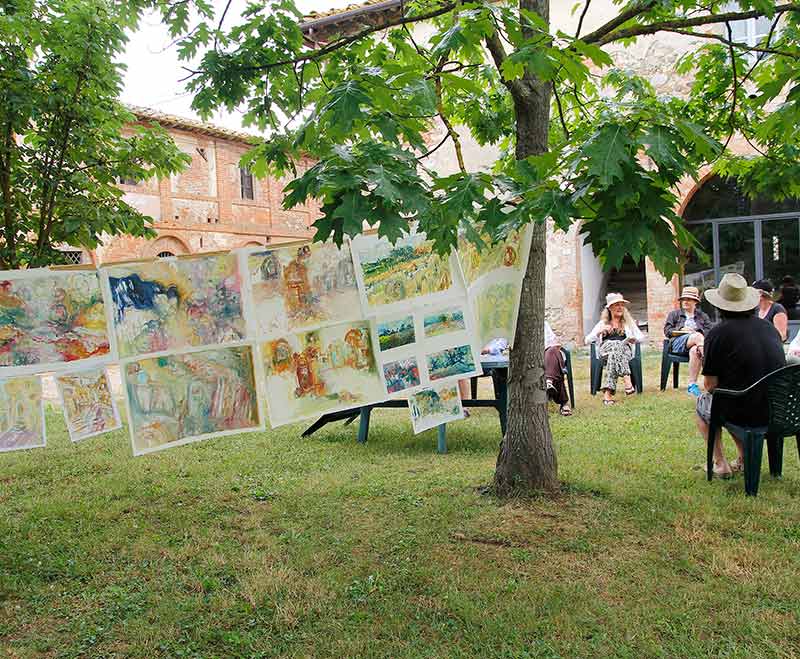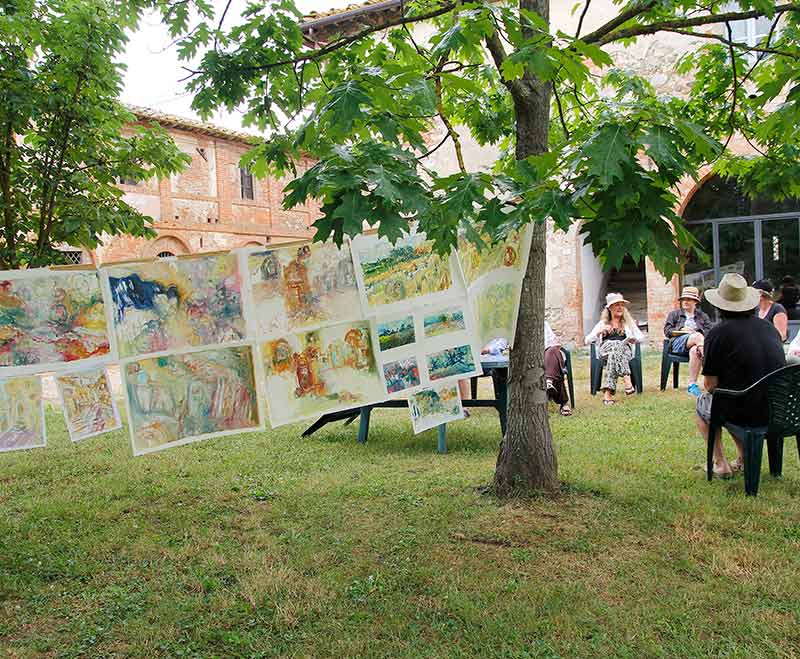 Mid session review during Studio Italia
Art History Tours
Walk the Arts offers art history seminar tours and art trips, led by professional art historians. They are open to everyone, from students and artists of all levels to art lovers, lifelong learners and independent travelers willing to live an enriching experience by immersing into the culture of the host country. Our classes and tours in Italy, France, Spain, Colombia, and the United States are a unique combination of art history lectures, discovery walks, museums, and fine cuisine.
Besides learning about art, architecture and religion, our participants fully experience the culture of the visiting country. We stay in centrally located hotels, we travel by train and subway, and we visit the markets, squares, and restaurants frequented by locals.
Also, since we limit the group size of art tours in Europe to 14 participants we can provide quality time and instruction as well as an intimate and fun environment among like-minded adults. Also, every March we offer a bus tour to New York City from Ottawa. Our art trip to NYC is devoted to top art museums and the best of contemporary art galleries. We offer accommodation in Midtown Manhattan, a flexible schedule, reasonable prices and the services of an art historian on board.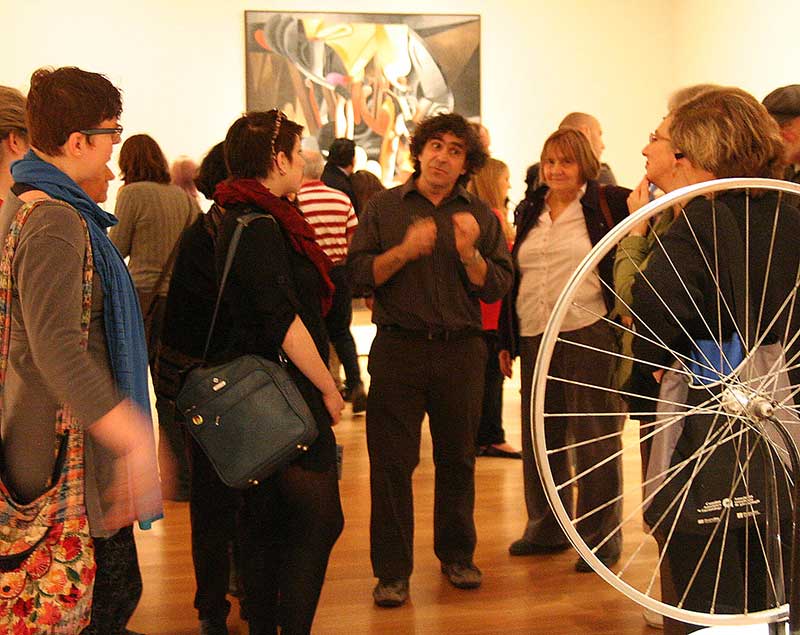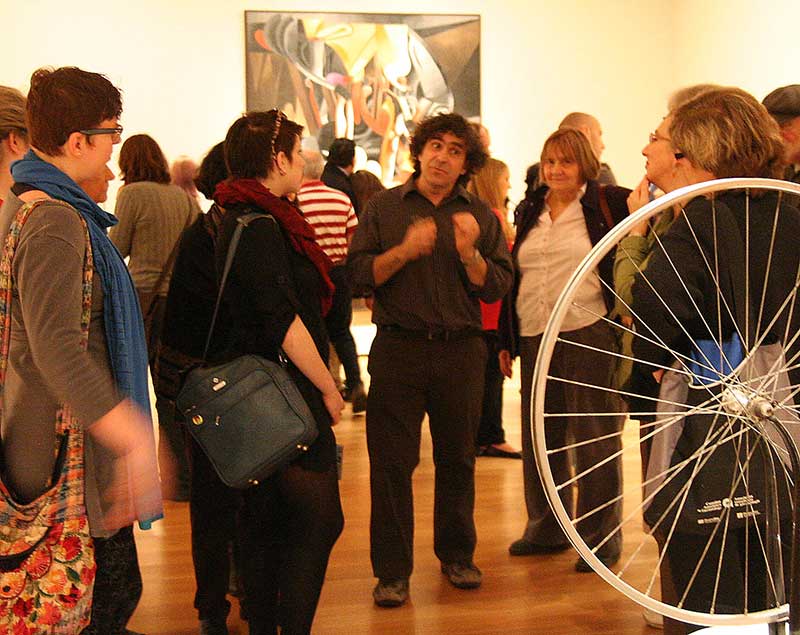 Yves M. Larocque talking about Marcel Duchamp (the "heretic") at the Museum of Modern Art, New York City.
Other Programs
Walk the Arts offers tailored programs for educational institutions seeking to enrich students' academic life by offering art, architecture, art history and philosophy courses in Europe Primarily, we have given custom-made art history seminar tours in Italy and France to groups of students from North American educational institutions.
Due to the quality of our art programs, some colleges and universities from North America and Singapore have conferred credits for our classes and workshops. We offer a Certificate of Completion for all our cultural activities and we fulfill Art Teacher recertification requirements.
Also, we provide custom-made team-building workshops through art activities for corporations, companies, associations, ministries, departments, etc. We do have all the artistic knowledge and tools to offer unforgettable and uniting creative experiences for organizational teams, may it be through painting, sculpture, drawing, conceptual art or museum activities.
What makes an excellent art teacher?
Passion first! More than an artist, a good art teacher, is an energetic passionate human being. Someone whose life has been dedicated to art and art education. Empathy, active listening, and a strong yearning for their students' success are all essential qualities of excellent art instructors. Understanding the students' vision of their artistic level and helping them move on is the starting point of any good teaching method.
Good art teachers are also knowledgeable about different techniques, but most importantly they keep up to date with the various existing "art-worlds". This allows them to direct their positive critique toward a particular one, so the student may thrive accordingly. Art history, art theory, and philosophy are also essential for good art education since they help learners develop novel ways of expression without repeating what has been done before.
In short, Yves is that kind of art instructor; he aims to help his students release their creative potential and develop the skills they need to take their art to the next level.
What is the meaning of art?
How would you define art?
The definition of art always remains contextual, in the sense that for one person art may represent something completely different than for another. But, despite all this, we could define "art" as follows.
"Art" (as in a work of art) is foremost an expression of the self, manifested in a novel way, reflecting the societal context in which it was done. Art also involves a concept, an idea, where intelligence, consciousness, and inquiry are deeply interconnected. Craft, harmony, truth, and goodwill are inherent parts of a work of art. (Walk the Arts)
Of course, we could expand on this definition. In our Western world, art refers foremost to beauty, a notion that has evolved since Greek antiquity. Art in the 21st century, a period dominated by science, technology, and sociology, also questions the concept of beauty, but well rooted into the values of the human being. When dealing with the visual arts, this notion can be expressed through the landscape, the portrait, or the abstraction.